This page for 10th Grade
Confirmation Students
This page contains information for the 10th Grade Confirmation students who are being Confirmed this Fall 2019
(9th grade or new incoming class please see "Confirm 9th page"
Mary, Mother of the Church Parish AND Basilica of the Immaculate Conception Church Students

Before the Confirmation Ceremony:

#1. we meet once for a mass together
where we celebrate the:
"The Rite of Covenant"
This is just a mass where the students are presented to their parishes and are welcomed by them as newly Confirmed members.
These masses are will be followed by the sacrament of Reconciliation for the students

Mary, Mother of the Church Mass:
Sunday Sept 22nd 11:30am
At: SS Peter & Paul Church
(This is for Mary, Mother of the Church students)
Basilica of the Immaculate Mass
Saturday Sept 21st 4:15pm Vigil mass
This is for Basilica of the Immaculate students)
All students and parents attend this mass and please invite sponsors too if they live locally
If you haven't already given me this info;
before the ceremony I need:

The name of your chosen sponsor . Remember....students YOU should be the one asking someone to be your sponsor...not your parents!
A copy of your Baptism certificate. If you were baptized at the Basilica or SSPP or St. Leo the Great then please e-mail that to me and I will look it up. Or if you made your first communion at SSPP I have it to.... Please let me know.

The Confirmation Ceremony

Friday September 27, 2019
7:00pm
Bishop: Juan Miguel Betancourt
Confirmation Ceremony is held this year at the Basilica of the Immaculate Conception in Waterbury

(This is because 6 churches are joining us)
Rehearsal
Thursday September 26, 2019
6:00 to 7:15pm
Rehearsal is for student and sponsor
(if sponsor can't make it, a parent may stand in)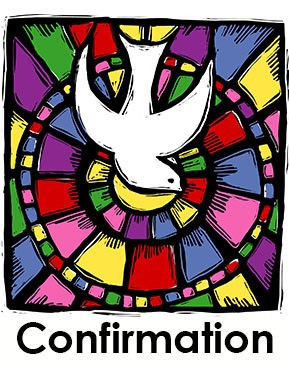 What to wear to the ceremony
We DO NOT wear confirmation gowns
Boys: Shirt & tie (Jacket/suit optional) no sneakers please
Girls: Dress, skirt or nice pants. Shoulders need to be covered because your chosen confirmation name is on a badge that is pinned to your left shoulder. Casual nice